I write this post with a heavy heart and tears running down my face. If you recall, I recently requested your input about my mother's upcoming 90th birthday. I had been conflicted about whether to celebrate her birthday party on the exact day, as I wanted, or on the week-end, as my sisters wanted. My sisters wanted to celebrate on the weekend because of work schedules. Since this was a major milestone, I felt it was important to honor her exact birthday, even if less convenient. I reached out to you and asked for your opinions.
In typical highly sensitive fashion, I received very thoughtful and helpful suggestions. I thank you all for them! I ended up talking to my mother to find out her preference. She told me that she wanted to have everyone together and didn't care what day we celebrated her birthday.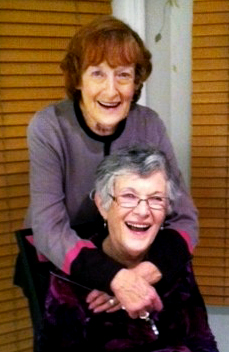 In order to keep the peace and to honor my personal feelings, I decided to take my mother and aunt out on her actual birthday. The plan was to have a nice lunch and celebrate with a mini birthday cake. On the week-end, we would then have a 90th birthday dinner with the whole family. I was comfortable with this compromise. As the time for the celebration came near, the plans were coming together, and everyone was going to be there. Just like my mother wanted!
HOWEVER, my mother passed away suddenly a week before her birthday. The family WAS all together, but unfortunately, it was at her funeral! It's been about two weeks since her death. I can't believe she's gone! Everything still seems so unreal, and I keep expecting to wake up from this bad dream. I have so many different feelings washing over me simultaneously that my emotions are all over the place. My highly sensitive nervous system is definitely running on maximum overload right now!
It's difficult to work through my grief and also process all of the many things that I will need to do to take care of her estate. It's all so overwhelming! And then of course, I still have all the things I normally do, like working, doing chores around the house, and even writing these blog posts.
It may seem like writing a blog post wouldn't be a priority right now, but writing is calming for me. It provides a much needed outlet at this difficult time. When we're grieving, it's important that we do what we can to take care of ourselves. I plan to write a bit more about what I'm going through and how I'm coping with this devastating loss in future blog posts. I'm interested in any thoughts or comments you have, especially on how to cope with such a major loss.