17 Powerful Tips To Help You Thrive
As A Highly Sensitive Person
Critical Life Lessons That I Wish I Learned Sooner!
In this e-book, I share common sense lessons that I've learned in the hopes that I can help make your journey easier. Along with the advice, I also include some of my favorite inspirational quotes.
Life can be difficult for people who don't conform to the "norm" and meet the expectations of society. As a highly sensitive person with many introverted qualities and social anxiety, I was a painfully shy child who had trouble fitting in at school and in social situations. I hated being different and felt like something was wrong with me. I didn't find out about my high sensitivity until I was middle aged. Once I came to understand my nature, the many struggles in my life made more sense.
I set out on a path of learning and discovery to find ways to build confidence. I vigorously consumed self-help materials and attended seminars on personal development. This FREE e-book is a compilation of critical life lessons that I wish I had learned sooner. Armed with knowledge, I am now able to embrace my high sensitivity, making the most of its gifts, while also building resilience to cope with its challenges. I hope this information can help you as well!
Making Sense of Your HIgh Sensitivity
Discover, Develop, and Maximize Your Highly Sensitive Person (HSP) Traits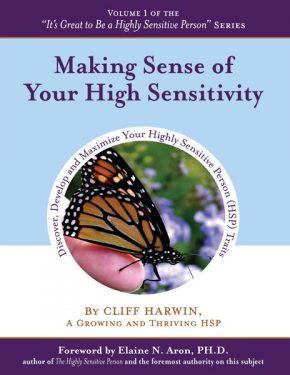 This book will positively affect the way you live, behave, and help you feel at peace with your highly sensitive nature. Gain inspiration and information from a source that you will refer to again and again! 
Extensive research done by clinical psychologist, Elaine Aron, Ph.D., who has graciously provided the foreword for this book, indicates that 15-20% of the population is comprised of highly sensitive people.
A significant percentage of this 15-20% is not aware of this inherited character trait and the effect that it has on their lives.
Cliff Harwin, husband, father, business owner, and highly sensitive person has written about this subject from a personal perspective and will share with you the lessons that he's learned. At the end of each chapter, he provides a summary and thought-provoking questions to help the reader gain more insight into the content and into themselves.
This book is SOLD OUT. I am currently working on a new edition.
You never know when a moment and a few sincere words can have an impact on your life.
Benefits of
Making Sense of Your High Sensitivity
A deeper understanding of what it means to be a highly sensitive person.
Tips on making career choices that are consistent with your highly sensitive nature.
Strategies for dealing with the resistance that keeps you stuck in life.
A road map to a happier life.
An HSP friendly health care strategy to make better health care decisions.
An extensive list of resources for highly sensitive people.
Mommy's First Memories of You!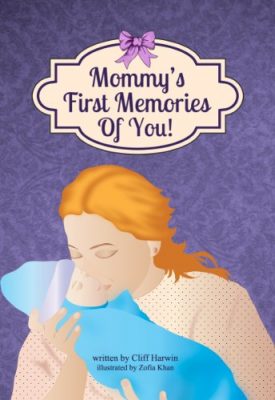 This book uses original artwork and poignant words to celebrate the birth of a child. 
Adding a new baby to the family is always exciting, though it can be overwhelming at first. Sometimes it can be so overwhelming that mothers and fathers don't always take the time to reflect upon the many heartfelt moments that they experience as they get to know their new baby. 
This read- aloud book can help you relive those happy moments and bond with your newborn. As your baby grows, use this book to help your toddler understand the love that a mother and father have for their child. The child can reflect upon the happiness of his or her own birth or that of a new sibling.
You can purchase this short Kindle book  from Amazon.
Self-awareness is the first step in thriving as a Highly Sensitive Person. Once you understand your high sensitivity and become clear about who you are, you'll be better equipped to decide what's best for you.