I help highly sensitive people
discover, develop, and maximize their high sensitivity
Are you a Highly Sensitive Person (HSP)?
High sensitivity is an inherited trait characterized by a nervous system that processes and absorbs more emotional and physical information than average. It's both a gift and a challenge. High sensitivity can leave you feeling overwhelmed by life but also equips you with many powerful gifts, such as intuition, creativity, and compassion.
Join my mailing list to get my NEW Free e-Book
I'm excited to announce the release of my new FREE e-book, 17 Powerful Tips To Help You Thrive As A Highly Sensitive Person! This e-book is a compilation of critical life lessons that I wish I had learned sooner. I was inspired to share this information in the hopes that I can help other highly sensitive people thrive in a world that doesn't always understand us. Along with the advice, I also include some of my favorite inspirational quotes. To receive my free e-book, please join my mailing list. You'll receive emails a few times a month and have access to exclusive content.
Highly Sensitive Thoughts Blog
Being your true self is the most effective formula for success there is.
Who Can Benefit From My Content?
The intended audience for my content includes highly sensitive people, both those who are newly aware of their high sensitivity and those who have known for years, as well as introverts, empaths, and those with social anxiety. When I started my company in 2008, I focused exclusively on highly sensitive people, but I've come to realize how often high sensitivity, introversion, empathic abilities, and social anxiety occur together. Approximately 70% of the HSP population is introverted. Empaths, like HSPs, have enhanced sensory awareness, powerful intuitive abilities, and a need for alone time to decompress. 
Making Sense of Your High Sensitivity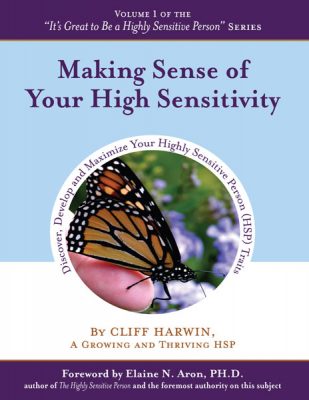 In my book, Making Sense of Your High Sensitivity: Discover, Develop and Maximize Your Highly Sensitive Person (HSP) Traits, I share lessons I've learned and challenges I've faced. At the end of each chapter, I provide a summaries and thought-provoking questions to help the reader gain more insight into themselves.
This book will positively affect the way you live, behave, and help you feel at peace with your highly sensitive nature. Gain inspiration and information from a source that you will refer to again and again!
Focus on Your HSP Strengths
Learn to focus on your strengths and minimize the impact of your challenges. Knowing the benefits and drawbacks of high sensitivity, along with where you fit on the HSP spectrum, will help you set realistic goals and maximize your strengths.
I can help you thrive as a Highly Sensitive Person.
If you're feeling stuck, I can help you find your way! I provide HSP Coaching through e-mail consultation, which is a great option for highly sensitive people. I'll ask you questions about yourself and what you'd like to accomplish. I'll pose specific questions that will keep you focused on your objectives. You can take time to reflect, so that you can carefully consider your answers. In this way, we'll work together to come up with solutions that fit your wants and needs.